International Mivtzoim Campaign

! First Year Shluchim Click Here for Special Offer !

Mivtzoim Brochure Series
To view each brochure in PDF format click on Thumbnail

The Shluchim Office is proud to announce the completion of a set of Mivtzoim brochures, introduced and encouraged throughout the years by the Rebbe.
The campaign, launched during last years Kinus Hashluchim, by the Vaad Hakinus and The Shluchim Office, was to encourage interest in the ten Mivtzoim. Brochures for each of the ten mivtzoim, plus two additional brochures - Mivtzah Moshiach and Mivtzah Sefer Torah have been published. This is the first time in history that a cohesive series of all the mivtzoim is being published and distributed by shluchim worldwide.


Length 30 - Height 43 - Depth 10

The Shluchim Office designed a special display center
that will exhibit the twelve new mivtzoim brochures as well as an additional two shelves that will allow you to present other materials related to local Chabad programming.

As seen on the attached photo, this display, intended to be posted in your Chabad House lobby, will have a sign attached to the top, serving as a welcome sign to those entering your Chabad House.

The welcome message will be customizable with the name of your own Chabad House.
Clich here for sample
Prices!
Display Center - $250.00

100 Sets - $310.00

300 Sets - $825.00

1000 Sets - $2200.00

500 Singles - $150.00

1000 Singles- $250.00

Customization for all brochures together - $200.00
!Offer Ends Yud Shvat!

Mitzvah Campaign – Mini-Brochure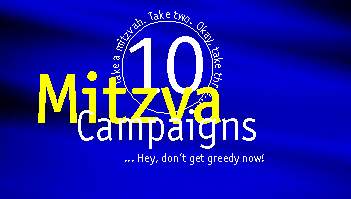 A pocket-sized, accordion-fold handout provides an overview of the
mitzvah campaigns (the ten mivtzoim, plus two additional campaigns
Mivtzah Moshiach and Mivtzah Sefer Torah).
Printed in dynamic, eye-catching colors, this mini-brochure is a perfect
conversation starter for discussing the ten mitzvah campaigns.
It is easy to carry in a wallet, pocket, or briefcase and will encourage
impromptu mivtzoim.
For more information:
Your feedback is important to us and helps us to better
serve your needs. Please email your comments relating
to this project to mivtzoim@shluchim.org
A SPECIAL SERVICE FOR SHLUCHIM!

This service is coordinated by The Shluchim Office,
a division of Merkos L'Inyonei Chinuch.
For more information on any of our services, please call us
at 718-221-0500 or e-mail us at: shluchim@shluchim.org

Click here to view past opportunities