If you are having trouble viewing this email or for the Hebrew edition, click here.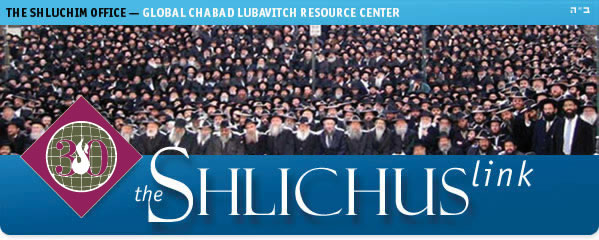 Issue 352 • Sunday, April 2, 2017 •

ו' ניסן תשע"ז

רמב"ם: ספר עבודה, הלכות מעשה הקרבנות, פרק י-יב
עברית

Past
Issues

Print
Dear Shliach and Shluchah שיחיו:

The Pesach Seder is just around the corner - but there are a few timely reminders for your attention.

In this issue you will find:


Wishing you and yours a Kosher und freilichun Pesach and much success.

The Shluchim Office
There's still time to place that order!

Please click here to browse the many Pesach products that might be helpful.

Hike 4 Friendship, Friendship Circle International's once-annual Grand Canyon Hike, is now open for registration.

It's a one-of-a-kind chance to experience one of Hashem's wonders.

Please click here for more!

Take a moment from your Pesach preparations and plan ahead!

Shavuos Guides are now available for order, with the final customized print run closing on the 1st of Iyar (April 27th).

Please click here for more and to order.

Shluchim Center Closed for Pesach

The Shluchim Center, including the Lounge and other facilities, will be closed over Pesach.

We will be closed from Sunday 13th of Nissan, and we will reopen on Thursday the 20th.
The Shluchim Office, Global Chabad Lubavitch Resource Center.
816 Eastern Parkway, Brooklyn, NY 11213
718.221.0500 | f 718.221.0985 |

Copyright © 2008 The Shluchim Office

Design: