If you are having trouble viewing this email or for the Hebrew edition, click here.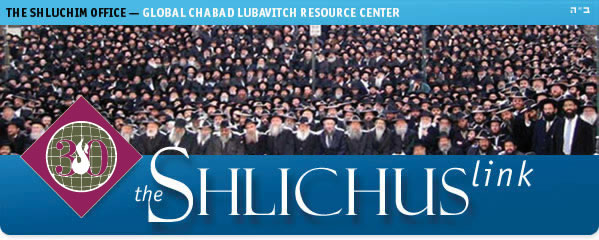 Issue 351 • Wednesday, March 8, 2017 •

י' אדר תשע"ז

רמב"ם: ספר זרעים, הלכות מעשר שני ונטע רבעי, פרק ב-ד.
עברית

Past
Issues

Print
Dear Shliach and Shluchah שיחיו:

ATTENTION: DO NOT OPEN BEFORE SHUSHAN PURIM. Unless you want your orders to arrive faster.

This issue is all about Pesach. It can wait a week, if you don't mind waiting two.

In this issue you will find:


Thank you,
The Shluchim Office
404 Error: These reminders cannot be found.

Try again after Purim.

lizchus refuah shleima for
Gedalya ben Bat-Sheva


Kinus Tzeirei Hashluchim feedback:

"My daughter came back for her second year and, once again, had a wonderful time. She came home filled with enthusiasm, pride and exciting stories. Thank you for providing such an amazing opportunity for our children!"

Mrs. Fruma Resnick
Pleasanton, CA

Why is this Ma Nishtana card different from all others? We're selling it before Purim.

Take a look at the new Ma Nishtana card, a stunning visual learning aid and Seder compliment available in standard and Chabad nusach.

Pesach & Matzah Bakery Supplies

Yes, we told you not to open this. But you did, and now you just remembered that you HAVE to order Pesach and Model Matzah Bakery items NOW so they'll be ready when you're done cleaning up after the party!

Please click here for our wide selection.

Does your Chabad House offer Preschool, Daycare, Mommy & Me - or are you thinking about opening one?

Join a powerful network of passionate and dedicated early-childhood educators. Just ask what the CECE Network offers.
The Shluchim Office, Global Chabad Lubavitch Resource Center.
816 Eastern Parkway, Brooklyn, NY 11213
718.221.0500 | f 718.221.0985 |

Copyright © 2008 The Shluchim Office

Design: