Bais Hamikdash Learning Exhibition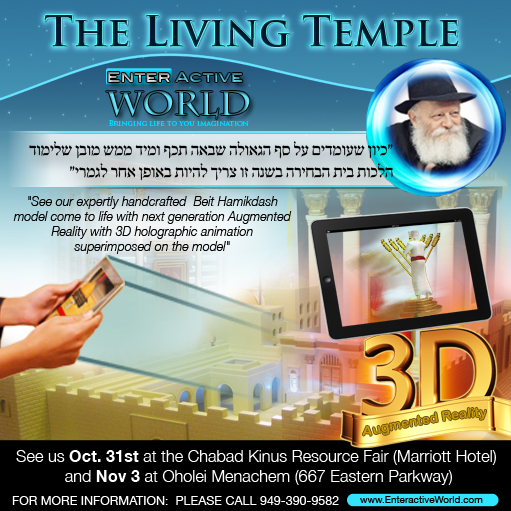 The importance of the Bais Hamikdash to the Jewish People and the world cannot be overestimated. It is not only a meaningful study of the past - it is a necessary preparation for the future.

For the first time in history you can easily acquire an in-depth educational study of the Bais Hamikdash with a museum-quality model which is paired with an "augmented reality" guided tour in immersive 3D technology. In other words, viewing your model with the right smartphone or tablet will make the viewer feel as if they have gone back in time and experienced a day in the life in the Bais Hamikdash.

Exciting Augmented Reality Technology
At any location on the Bais Hamikdash model that you aim a smartphone or tablet, you will instantly see 3D holographic animation superimposed over that location in the model. The animation will explain that part of the Bais Hamikdash (in a choice of several languages) and immerse you and your audience into the daily service.